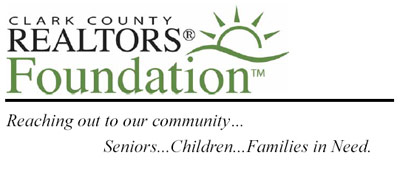 Get the Flash Player to see this player.
The Clark County Association of REALTORS®
is proud to announce our charitable giving
organization, REALTOR® Foundation.

This foundation is designed to meet the needs of those in our community who could use a helping hand….children, seniors and families who need assistance. With your help, this foundation will serve many in our community that need help with jobs, housing, medical & physical needs, as well as donations of food and clothing.



By volunteering your time or contributing your
donations, you can help us reach out and connect
with the most vulnerable members of our community.
Building a stronger community builds a stronger society — with your help, we can support others in their challenges and assist those in need. Your gift can make sure this foundation will look for the forgotten, help the needy and strengthen our community.



Your contributions are tax-deductible. The donations
you make will stay in our local community and help
those around us.
For more information, please contact
Michele Holen
, Executive Director, Clark County Association of Realtors Foundation. 360-695-5980.

Together, we can make a difference.